Aurora Borealis--SOLD at WPT auction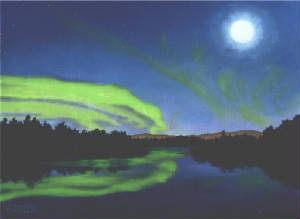 This painting was chosen for "May" on the Werner Electric Supply calendar.
S O L D Red Tulips and Golden Alyssum
Attitude Rules
Eagles have snatched foxes; I saw an unretouched photo of such a thing.
I'm Next, I'm Next, I'm Next!--SOLD
Barney's Last Stand
A metaphor for the drastic changes taking place on Wisconsin farms. How do you stop a tornado?
Moonlit Egret--SOLD
The grace and beauty of these birds is inspiring.
Flambeau River Pine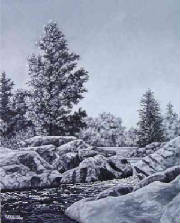 This black and white painting expresses the beauty of nature even without color.
Heeling on the Mississippi
A sailboat struggles against an oncoming storm.
My email address: doloresmarusarz@gmail.com Find me on Facebook.


SOLD--Ochre Sailing on Moonlight Bay
First Snow--SOLD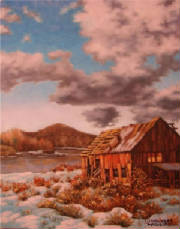 It's cool among the coulees in SW Wisconsin, but old barns glow with the sunlight.
Juneau County Oak
I have known this oak for 30 years. It was time to paint it.
Have more fun than ever before! Click here to visit my sister's unusual web site of exotic jewelry and costumes.
ART QUOTATIONS

"The work of art must seize upon you, wrap you up in itself and carry you away. It is the means by which the artist conveys his passion. It is the current which he puts forth which sweeps you along in his passion." Pierre-August Renoir

"I found I could say things with color and shapes that I couldn't say any other way--things I had no words for.." Georgia OKeeffe

"Art is the Queen of all sciences communicating knowledge to all the generations of the world." Leonardo Da Vinci

"What a funny thing painting is. The abstract painters always insist on their connection with the visible reality, while the so called figurative artists insist that what they really care about, is the abstract qualities of life." Marlene Dumas