About Alex

Alex was born at seven months of gestation. His delivery took place on the bathroom floor with me, his mother, doing the delivery. I grabbed a towel off the rack just in time to catch him as he fell from me while I squatted after a seven-minute labor and the burst of waters. He was very tiny. He wasn't breathing. He was purplish-black. I suctioned him by sucking the amniotic fluid from his mouth and nose, but he still showed no signs of life. I gave him CPR and he pinked up briefly but still did not breathe on his own. I rubbed his back and gently pushed up on his abdomen to encourage him to breathe. Nothing happened. The placenta fell from me, so, remembering that the placenta has oxygenated blood, I held it above him with one hand and continued to rub him with the other hoping that the oxygen would help bring life to him. My older son David got on the phone with 911 quickly and the paramedics arrived just in time. I told them to never mind me--get the baby to breathe! The brave and dedicated Owen Kelly kept Alex alive all the way to the hospital, where oxygen was pumped into him by machine. The ambulance driver Steve Shimkus got through morning rush hour Chicago traffic in life-saving time, and Alex was brought to life. It was touch and go the first 10 days, but look at him now! He's beginning college, where he will be studying human relationships. He also makes movies with his friends and posts them on You Tube.

This series of paintings follows his life from day two to the age of thirteen. I am currently painting the final pre-adult depiction of Alex.

The Joy of Books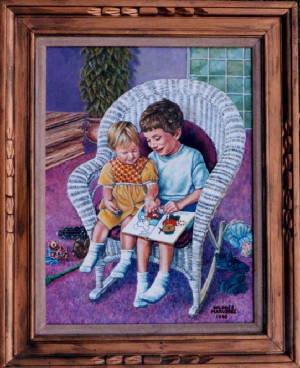 Alex and Olivia choose books over toys.
Taking a Break at Interstate Park, MN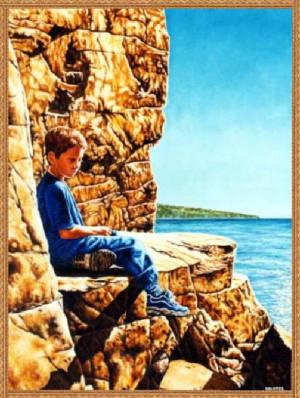 He hiked like a nimble goat, then had to wait for me to catch up. What a vision he was.
Sandia Mountain Hikers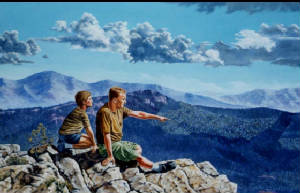 Big brother David shows Alex the town of Albuquerque, NM. My sons were sitting on the edge.
Alex Loves Betsie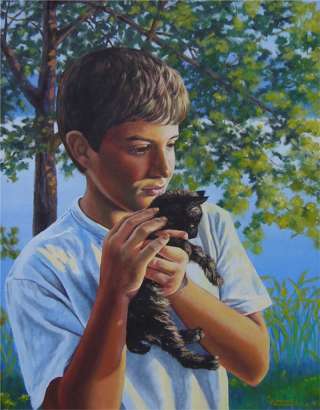 Alex at 12 with his new kitten. She stole his heart and hasn't given it back.
Oh, to Be Young!
Both 13, Alex and PJ enjoyed the trip to Alma, WI to see the migrating tundra swans.