Biography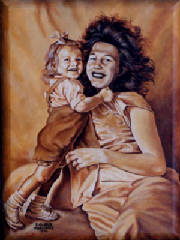 Yes, dear Reader, 100 years ago I was a baby in my mother's arms.
Each of my paintings says what I wish I could say. I use the painting materials as a musician would use an instrument and notes to communicate the depths of his or her passion. Gustav Mahler said, "If a composer could say what he had to say in words he would not bother trying to say it in music." That is how it is with painting and me. In fact, it is the way I best communicate my feelings to others, even to people whom I have never met. The greatest goal for me as an artist is to elicit from the viewer of my work the same passionate joy I felt in its creation. It is my happiness to learn that I sometimes attain that goal.
I began selling my artwork in 1958, when a drawing of mine was chosen as the cover of a Chicago youth magazine. This encouraged me to continue pursuing art as a future profession. I went on to publish in other magazines, and then to participate in art competitions, winning many Best of Show Awards and First Place Awards. My portraits and landscapes now hang in museums and private collections throughout the United States and in several other countries. You may see my work at the Polish Museum of America, the Polish National Alliance, the Back of the Yards Council, and the Balzekas Museum in Chicago and the Italian Cultural Center in Stone Park, IL. My work is also at La Salle Bank, Marquette Bank, Community Savings, and Chicago Home Savings. The University of Illinois at Chicago, Illinois Institute of Technology, and Daley College in Chicago also own my paintings. I have done portrait work for the late Isabel Sanford (Weezy of The Jeffersons) and an associate of late actress Ingrid Bergman (a portrait of Bergman with Bogart). The Chicago Council on Fine Arts gave me five grants to teach painting to senior citizen groups and to the other-abled in special education. I taught drawing and painting in the Adult Education Department at Daley College for four years and gave demonstrations to many art clubs in the Chicagoland area. While living there, I served as the President of Scottsdale Art League, Vice President of the Southwest Area Cultural Arts Council, and director of four art fairs. From the spring of 2003 to 2007, I was artist-in-residence at grade schools in Holmen and Onalaska, WI. In 2007 The Womens Fund of La Crosse chose me as artist of the year and used my painting to illustrate all its publication. My more recent solo shows have been in the Healing Arts Program at Hudson Hospital in Wisconsin; the State Capitol offices of Lieutenant Governor Barbara Lawton; Gallery 110 North in Plymouth, Wisconsin; and A Room of Ones Own Bookstore in Madison, Wisconsin. Upcoming showings will take place at the Heider Center in West Salem, Wisconsin, and the University of Wisconsin Hospital in Madison. I currently show my work at four galleries.
I studied at the Art Institute of Chicago, the American Academy of Art in Chicago, Daley College, and Illinois Institute of Technology. At the University of Illinois I earned a Masters Degree in English. I have taught English at the University of IL, De Vry Technical Institute, the American School, and Western Wisconsin Technical College. My degree in English helped me in my job as a writer of articles about art, exhibits, and artists for several newspapers in the Chicago area. Currently, I write about artists and art for Contour Notes, a publication of the Wisconsin Regional Arts Association and for the Bluff Country Master Gardeners monthly newsletter.
Since moving to the beautiful Coulee Region in southwest Wisconsin in 2000, I have painted much of the outstanding local landscape. I also paint portrait commissions. I am a juried member of East Bank Artists in La Crosse and the La Crosse Society of Arts and Crafts. I served as its scholarship chairperson for four years and have given two demonstrations to them. I also coordinate bi-monthly exhibitions of artwork for the State Capitol offices of Rep. Jennifer Shilling and Sen. Dan Kapanke in Madison.
Brief Statement
Brushes and paints and canvas speak more meaningfully than I do. They speak in a language I do not have words for. I make that claim in spite of the years I spent earning a Masters Degree in English and teaching English to college and high school students for sixteen years. Perhaps the initiative for pursuing my education in English was for the very purpose of acquiring the knowledge of our language that would enable me to finally express myself in words. It didn't work. More than ever before, in all the years I've bared my personal truth through my art, expressing myself this way is the only way I can really communicate with you. How do I know when it's working? Partly through the words I hear, although they cannot touch the subtleties and depth of emotion even though we now have over a quarter of a million active words in English. I have watched people as they look at my work—people who do not know I am the artist. I have seen their expressions, the look in their eyes. Can I describe that for you? No—my words are too poor for describing that, but I know the language I see on their faces. This lack of the right words has no doubt contributed to some unhappy moments in my life, yet also no doubt contributed to my ability to communicate through the realizations of my visions. I just have to say it somehow. Those realizations take their form in paintings: their color or lack of it, the brush strokes I use, the forms and compositions and perspectives, the edges, the blending, and the subject. I hope that when you look at these things you feel the depth of emotion I put into them.
You may email Dolores Marusarz by writing to doloresmarusarz@gmail.com or by clicking here.